English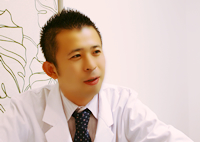 ⇒DR. PROFILE
Director: Ootara Toshimitsu
Our esthetic treatment starts with all-ceramic dental restoration and focuses on dental implants, periodontal and tooth decay treatments. We deal with many different types of dental problems using the latest dental techniques. We consider the time, budget and results desired by the patient. Please feel free to contact us if you have any dental problems.
Address

〒 150-0001
Osakabe Bld. 1F 5-46-12 Jingumae, Shibuya-ku, Tokyo

Tel
03-3486-4484
Hours of Operation

Mon-Fri 11AM-1:30PM / 3PM-8PM
Sat & Sun, 10AM-1PM / 2PM-5PM

Holiday Schedule
Wednesdays & National Holidays
Access
Four minutes from B2 Exit of Omotesando stn., and accessible by four Train lines (Tokyo Metro Chiyoda line, Tokyo Metro Ginza line ,Tokyo Hanzomon line)

Clinic photos
Reception Hall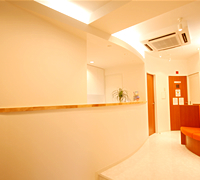 Our clinic is conveniently located in an upscale, modern and elegant area of Omotesando, next to a cathedral, many cafés and unique shops.
We provide dental service with courteous and professional staff. We hope to provide to our patients with an unsurpassed dental experience. Feel free to contact us for a consultation.
Waiting Room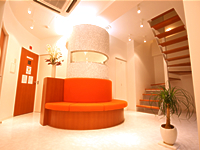 Our comfortable waiting area includes a shuttle
type sofa created by an interior designer.
In the front window, we have a video screen to make your wait more pleasant. We also have an iPad available for use while you wait
Operating Room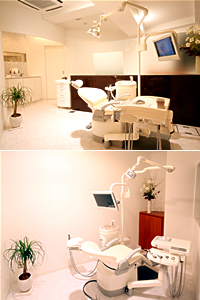 Our operating rooms are designed with space in mind. We have television monitors are installed so you can watch TV while during your treatment.
We also have private operating rooms available if you do not want to be bothered with other patients and are concerned about your privacy.
Digital Roentgen Machine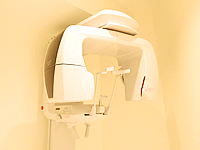 In this room, we have the panoramic roentgen machines. These take vivid pictures compared to the original film versions, so we are able to see your teeth in more detail. There is no film to develop, so the results can be seen right away.
Powder Room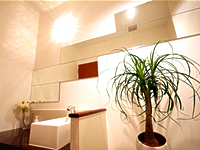 We have set up a decorative room with mirrors for your use. Feel free to use the room for hair, make up and attire after a treatment.

For appointment and inquiry


Mon-Fri 11AM-1:30PM / 3PM-8PM
SAT&SUN 10AM-1PM / 2PM-5PM
Holiday Schedule:Wednesdays & National Holidays
Osakabe Bld.1F, 5-46-12 Jingumae Shibuya-ku, Tokyo


Clinic information
Credit cards accepted